There's no excuse not to blog - I am sitting at home on a snow day :) I was called with the cancellation yesterday just before 5:00...it was so nice to know early!
I've been thinking about what I could share on this blog, and pondering what has really worked in my ELA classroom. I realized after my students took their first "Common Assessment" test created by the district that I could not just tell them to "write a complete short answer". I had to teach them how to do it by breaking down each step and setting expectations.
This is not my original idea, but if I've learned anything as a first-year teacher it's to not reinvent the wheel!
The acronym, RACE, stands for each part of a complete constructed response. There are a few versions out there, but I like this one best:
R -
restate
the answer
A -
answer
all parts of the question
C -
cite
evidence
E -
explain
how your evidence supports your answer.
We've practiced this by writing responses to whole-class texts, stand-alone prompts, and even questions like "what was the best part of your weekend?"
Of course, the "citing" would have to be examples from the weekend instead of text evidence.
Now that my students know how to use the RACE response, I can just say "don't forget the RACE method!" when we are taking a test :) I have seen such an improvement in their responses from the beginning of the year.
It makes me so happy to see my students scrawl "RACE" at the top of their answer page, or even to see them planning out their response with each letter before they write it.
There are a few products I've used for this that have been really successful: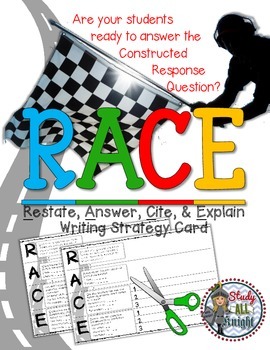 These strategy cards are great for responding to any prompt! Each part of the response is broken down for the students. I think this would be great to use when you are first introducing this strategy.
Here is a free writing response that has students responding to a Henry Ford quote using the RACE method. We did this activity shortly after I introduced the acronym.
Here is a great explanation of the strategy (complete with a rubric) from Mrs. Sol's classroom.
I love this resource for the visual of setting up a notebook page!
Oh, and I've had a few students tell me that they've used this short-answer method in other classes, too! Yay for cross-curricular connections!
Because I love things to match, I've created a version that you can use in your own classroom to match some of the neon chalkboard items I've made.

Click on the picture to get this FREE download at my TpT store.


Do you use a constructed-response format in your classroom?